This Sunday will mark the third edition of the Battleground PPV. While I'm not a big fan of the PPVs that lead up to the big ones (Wrestlemania, Summerslam), this year's edition looks promising. Some interesting feuds and matches are all I need to get excited about this one. Hopefully it'll live up to the hype. Anyways, here are my official predictions:
1. King Barrett vs. R-Truth (Singles match for Barret's King of the Ring crown)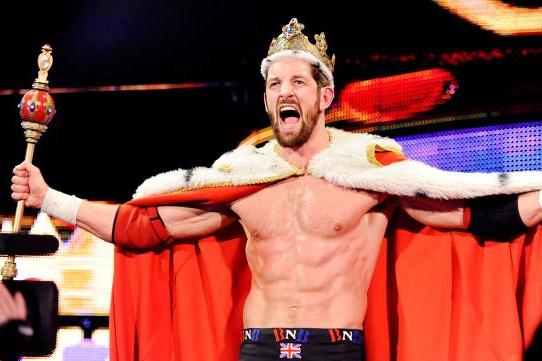 I haven't been the biggest fan of this feud. It's dull, not really funny and it makes the ''King of the Ring'' crown seem like a joke. My problem with this whole thing is: why is R-Truth getting this match? Barret won the tournament, end of the story. Back to the match, I expect an average match that ends with King Barrett keeping his crown. It would be stupid to give R-Truth the crown Barrett won fair and square. While booking was dumb enough to start this feud, they have to be smart enough to give the match to Barrett
Prediction: King Barrett
2. The Prime Time Players vs. New Day
(Tag Team Championship Match)
Prime Time have done a good job as Tag Team Champions. While I think New Day work better as champs, Prime Time should retain for at least one PPV. Match should be good and fun, nothing great tho. While I expect PT to come out on top at Battleground, I fully expect them to drop the titles at Summerslam
Prediction: Prime Time Players
3. Roman Reigns vs. Bray Wyatt (Singles Match)
I've actually enjoyed this feud. Bray Wyatt is such a good heel. His mic skills are exceptional. He also makes Reigns look good. Their first match in this feud will take place this Sunday, and Bray Wyatt is the obvious winner. First off, it would finally show the haters that Roman Reigns can actually lose a match. Plus, Wyatt can win by cheating, leaving the door open for a rematch at Summerslam. A rematch in which, you guessed it, Reigns comes out on top.
Prediction: Bray Wyatt
4. Sheamus vs. Randy Orton (Singles Match)
This is the match I'm the least excited about. We've seen it about 200 times in Raw or Smackdown. It's not new and therefore not fresh. The match will definitely be average at best, so I should focus on the result. Sheamus is going to win. He just got the MITB briefcase, they need to book him strong 'till he cashes in. I'll probably take my pee break in this one.
Prediction: Sheamus
This is were things get good. I know this will be an awesome match, but I really don't know who's getting it. While history screams that Cena is getting his old shovel to bury Owens, I just don't see it happening. No, Owens is different. I've called him the
future of WWE before
. However, as much as I want Owens to win, I don't think he's winning. My prediction? Owens is about to win, when Cesaro comes after getting whooped by Owens for weeks. Cesaro costs Owens the match, and we end up with Cesaro vs. Kevin Owens vs. John Cena at Summerslam.
Prediction: John Cena
Main event match. The one we've been waiting for ever since Wrestlemania 31. This match is going to be insane. Not only for the 2 amazing wrestlers that will be clashing against each other. It will end with a bang. Rumors say booking is planning something crazy for the end. Some people are even saying Undertaker has something to do with it. Will Taker cost Lesnar the match for ending the streak? Maybe. I think Lesnar will win by DQ, and Rollins will keep the title.
Prediction: Brock Lesnar (by DQ)
Closing thoughts: This PPV seeems interesting as hell. Super excited about some of the matches, don't really care about some of the others. Also, no Divas? and it kinda sucks that Ryback got injured a week before Battleground. Hope he recovers. That's it! What did you think of my predictions? Let me know, and tell me your predictions! If you beat me (doubt it) I'll follow you on Twitter, and I'll mention your name/handle on my official review of the PPV.